POWER BROKERS INC. CALENDAR OF EVENTS
Do you have a powersports event that you want to get the word out on? Get it to us and we'll get it in front of thousands of our customers with the Calendar of Events here at Power Brokers Inc. Just e-mail content and links to Christina at christina@powerbrokersinc.com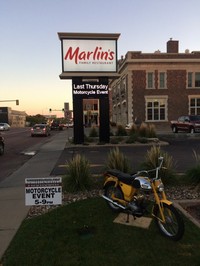 LAST THURSDAY
If you've been waiting for a motorcycle event unlike any other, stop down at Marlins (108 S Minnesota Ave) after 5pm on the last Thursday of the month. It will be a laid-back evening with a bunch of cool stuff-old and new. If it works like the organizers hope, the "Last Thursday" of every month (during the riding season) enthusiasts from all over will flock to Sioux Falls for a good time. Ride your unique ride by or just walk down. It should be a good time.
More Info: https://www.facebook.com/lastthursdaysiouxfalls/ 2018 Race Schedule SVCC Sioux Valley Cycle Club
Motorcross April 28th - Prepped Practice April 29th - Race June 16th - Prepped Practice June 17th - Race August 18th - Race August 19th - Race Hare Scramble April 22nd May 20th June 10th July 8th August 5th September 9th October 14th - 3 hour Fun Day Short Track Bikes May 5th June 2nd June 23rd July 7th July 28th August 10th - Prepped Practice August 11th - Race August 25th September 22nd Short Track Quads June 9th June 20th July 14th August 4th September 8th Homer Nebraska May 12th - Practice May 13th - Race June 2nd - Practice June 3rd - Race Members Club Picnic July 25th Special Event MWEDT Quad Race May 25th May 26th May 27th
More Info: http://www.siouxvalleycycleclub.com/ SDMRI 2018 Racing Season
June 30th- Platte SD-ATV'S @ 12:30, Trucks @ 2:00 1/4 mile south of Titan Machinery in Platte July 14th- Canistota SD- ATV'S @2:30, Trucks @ 4:00 4 miles west of Canistota or 3/4 miles east of Hwy 81 on 261st St July 28th- Corsica SD- ATV'S @ 1:30, Trucks @ 3:00 HWY 281 in Corsica August 4th- Canistota Season Finale & All State International ATV'S @ 2:30 Trucks @ 4:00 Gate Fee $10 Spectator $12 Pits Kids 12 and Under Free
More Info: https://www.southdakotamudracers.com/schedule 2018 Vintage Motorcross Series Championship
May 20th - Three Hills June 3rd - Westfair June 23rd AHRMA VMX. PVMX. & Trials - NO GP VMX Points - Three Hills August 26th - Three Hills October 28th - Three Hills
More Info: http://www.greatplainsvintagemx.org/ All Roads Lead to a Cure
Motorcycle Scavenger Hunt and Community Parking Lot Party Join the Arthritis Foundation – & fight with us to conquer arthritis. Join in this fun event and enjoy the camaraderie of other motorcycle enthusiasts and helping to raise funds & awareness to cure America's #1 cause of disability. Help spread smiles & good cheer & be a Champion of Yes! Date: Saturday, July 21, 2018 - 8:00 am Departure: 10:00 am Registration and Departure: Power Brokers, Inc 2810 West Benson Road Sioux Falls, SD 57107 Registration Fee: $25.00 per motorcycle & driver $15.00 per passenger All passengers must be at least 16 years of age. Registration includes a meal voucher to be used at the end of the ride. Wrap Up: Fit My Feet Orthotics & Shoes 2621 South Minnesota Avenue Sioux Falls, SD 57105 Riders must return by 4:00 pm. Parking Lot Party will begin at 12:00 noon – Fit My Feet Orthotics & Shoes Participate in bean bag games, cheer on the motorcycle riders, check out Fit My Feet Orthotics & Shoes – Food Trucks available.
More Info: https://www.facebook.com/events/2164282910467312/ 6th Annual Cody Verdon Memorial Ride for Fallen Bikers
Motorcycle Poker Run Saturday July 21st (Rain or Shine) Registration 10 am-12 pm Kickstands up at 12 Run Starts at Glacial Lakes Harley Davidson 1000 19th St SE Watertown SD $20 Per Person-Any Vehicles Welcome Silent Auction & Supper In Willow Lake IA For more information call Jeff:881-2237, Mike:881-9659 or Marcie:881-1804
More Info: https://www.facebook.com/groups/579924532064220/about/ Holy Smoke Carshow-Benefiting Seminarian Education
July 21, 2018 10:30 am- 9:00 pm Ogorman High School Sioux Falls SD Free Admission Register Car $35-Includes Lunch, T-shirt, and Dash Plaque Free Evening Show & Shine Pig Roast Dinner Provided by "Big Rig BBQ" Live Dinner Music $10/Person Kids 6 and under Free Fun Zone for Kids Inflatables, Face Painting and Games 11 am - 9 pm Mass 5PM at the OG Theater Collection Benefits Seminary
More Info: http://www.holysmokecarshow.org/
Those Guys A.B.A.T.E. Poker Run for the Children's Home Society
Sunday, July 22, 2018 Sign up at Cheap Shots Tea Exit 11-1 Free lunch provided by Marlin's, Cheap Shots and S.D. Pork Producers Council $10.00 per Rider 100% goes directly to Children's Home Society $3700 In gift cards will be awarded!
More Info: https://www.facebook.com/events/555553631501941 Off-Road Rally 2018
July 25th-30th Full Throttle Saloon Sturgis SD
More Info: https://fullthrottlesaloon.com/pages/utv-rally-2018 Guardians of the Children 1st Annual Poker Run
Saturday July 28th 2018 Registration 9am-11am American Legion 1701 W Legion Dr. Sioux Falls SD Last Draw 4:30pm Gate City Events & Lodging 47947 W 5th St Canton SD $10/hand
More Info: http://www.guardiansofthechildren.com/chapters/South%20Dakota/Big%20Sioux-Contacts.htm 4th Annual Ride 4 the Animals Poker Run
August 18, 2018 Registration at Power Brokers- $20 Day of Ride 11:am-1pm Tons of Door Prizes Card Drawing and Prizes at 5:30 pm Lunch will be available. 10th Annual Special Olympics Wolf Pack Poker Run
Saturday August 25th 2018 Run Begins and Ends at Red Eye, Sioux Falls Sd Register from 11:30am -1pm The Red Eye 5013 N Cliff Ave Sioux Falls SD 57104 Entry Fee: $20 for Poker Run (Includes 1 free meal ticket) Extra Meal Tickets: $5 each Dinner 5:30-6:630 Silent Auction Ends at 7pm Raffle Drawing at 10pm
More Info: https://www.facebook.com/pokerrunwolfpack/

SOUTH DAKOTA SAFETY COUNCIL: THE BASIC RIDER COURSE
The South Dakota Safety Council in association with the Motorcycle Safety Foundation Present the Basic Rider Course. The Motorcycle Rider Course: Riding and Street Skills consists of 15 hours of instruction (5 hours in the classroom and 10 hours on-cycle. Come to the classroom session prepared to ride.) Weeknights or weekend classes available. Who should take this course? *Anyone who is at least 14 years old. *People who have never ridden before. *People who are considering riding, but aren't sure. *People who have started riding. *Experienced riders. For DATES, TIMES, INSTRUCTORS & REGISTRATION...Please go to https://courses.southdakotasafetycouncil.org/Course/SearchCourses $75.00 per person For more details on requirements please go to South Dakota Safety Council website by clicking on the event heading. Contact the South Dakota Safety Council at sdsc@southdakotasafetycouncil.org or phone 605-361-7785 or 1-800-952-5539.
More Info: https://courses.southdakotasafetycouncil.org/Course/SearchCourses RIDER'S EDGE® NEW RIDER COURSE offered at J&L HARLEY DAVIDSON
The idea behind the New Rider Course is to enable non-riders to experience motorcycling while learning basic skills in a way that's fun and involving. Here is what makes the course unique: **Offered at J&L Harley-Davidson, where you get the added support of knowledgeable staff and a complete motorcycling facility. **New Rider Course uses the proven curriculum of the Motorcycle Safety Foundation's® Beginner Rider Course SM. **Instructors are dedicated enthusiasts who have received certification from MSF, as well as additional training from Harley-Davidson. **The course is about 25 hours of instruction, both in the classroom and on a controlled practice range. **Training vehicle­ Buell® Blast®, a mid-weight street bike that's easy-to-handle and a great starter bike that's a lot of fun on the road. **Each student must have sturdy, over the ankle footwear, protective eye-wear, full-fingered gloves, long-sleeved jacket/shirt, jeans and a DOT approved motorcycle helmet. Course Fee $212.00 including taxes. Payment is required at the time of registration. Call today for more information and the class schedule 605-334-2721 or 1-800-292-3531.
More Info: http://www.jl-harley.com/experience/learn MINNESOTA WEST MOTORCYCLE TRAINING
Basic Rider Course - $180.00 Experienced Rider Course- $55.00 Motorized Bicycle Course (Moped)-$35.00 Road Guard Certificate-$30.00 *Locations include Marshall, Pipestone, Luverne and Worthington. For more information or to register contact: MN West Community & Technical College - Valerie Jordan 507-537-7531 or www.mnwest.edu/training Pre-registration is required Class size is limited & must have materials mailed one week prior to class date. SOUTH DAKOTA ATV/UTV ASSOCIATION
A network for riders across South Dakota, the United States and Canada working to keep trails open, finding new friends and places to ride. Please visit www.southdakotaatv.com and become a member. Look for South Dakota ATV/UTV Events, Forums, News, Post Photos and chat with other members. We are dedicated to enjoying the outdoors, finding places to ride, trail maintenance, and protecting our rights to ride by fighting unfair regulation and land closures.
More Info: http://www.southdakotaatv.com