Why choose Power Brokers Inc. for your next powersports purchase?
Ask Paula and Todd!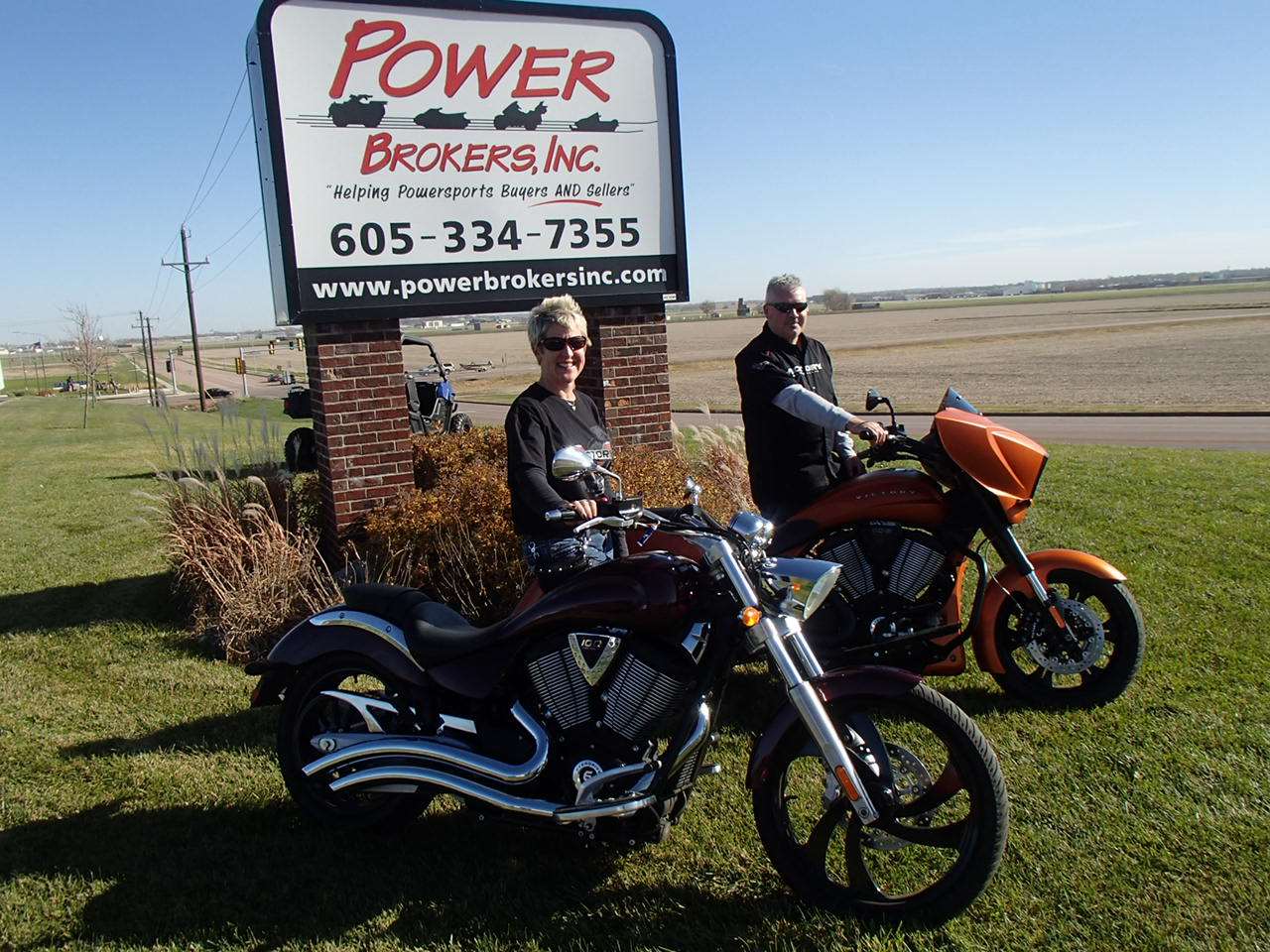 "We can't thank you enough for being so good to us on the purchase of our Victory Vegas. I sent you one e-mail and 48 hours later I was riding off on the bike of my dreams without draining my bank account! Power Brokers Inc. is THE BEST!!!" Paula Ewert
Here are a few more reasons to buy from us:
Why should you choose Power Brokers Inc. for your next powersports purchase?
#1-Experience: Nobody in the region sells more used machines than us...that says a lot. With over 50 years of combined experience on the showroom floor our staff knows the machines and the values... get to know them and you'll have an inside line to a good buy.
#2-Selection: To sell a lot of machines you have to have a lot of machines... it just makes sense. With close to 150 machines in stock all the time and access to many more from private parties and dealers we will have or can get what you're looking for.
#3-Simplicity: From your first look at the machine on powerbrokersinc.com to your first contact with our staff, the purchase, the paperwork and on-site financing with warranty options, we make it all easy. You have a few choices: you can chase around spending hours and the better part of a day looking at Craig's List and facebook ads, or you can join the thousands who have already found "a better way to buy... a better way to sell".
#4-Trust: We've built a reputation over the years for honesty, fairness and great customer service... that is no easy task these days. As our mission statement says: "Our mission is to help our customers, buyers and sellers, to make informed decisions on the sale or purchase of a powersports product. We strive for fair and just compensation in all transactions while doing our best to treat each and every customer with the same kindness and respect with which we expect to be treated".
We hope you'll visit the site and the store often...we'd like to make you a friend and a customer sometime soon.