POWER BROKERS INC. CALENDAR OF EVENTS
Do you have a powersports event that you want to get the word out on? Get it to us and we'll get it in front of thousands of our customers with the Calendar of Events here at Power Brokers Inc. Just e-mail content and links to Brianna at the email address listed below.
More Info: brianna@powerbrokersinc.com Support Your Local U.S. Military Vets Motorcycle Club
The Eagle 514 Nation Sioux Crew has teamed up with Gunway in Harrisburg SD to offer you 12 months of gun giveaways. Please Contact Carl "Mac" McGaugh @ 605-212-7635 or Jeremy "Deadeye" Holien @ 605-381-8897 for more information.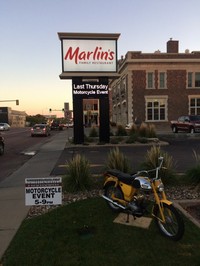 LAST THURSDAY
If you've been waiting for a motorcycle event unlike any other, stop downtown at the Phillips Avenue Diner after 5pm on the last Thursday of the month. It will be a laid-back evening with a bunch of cool stuff-old and new. If it works like the organizers hope, the "Last Thursday" of every month (during the riding season) enthusiasts from all over will flock to Sioux Falls for a good time. Ride your unique ride by or just walk down. It should be a good time.
More Info: https://www.facebook.com/lastthursdaysiouxfalls/ BIKE NIGHT ROLL IN
Coors Light Bike Night Roll in @ the Red Rock Bar & Grill benefiting Children's Home Society Wednesday Nights starting at 6pm Kick Start on May 17th Ending September 6th
BEAT BRETT MOTORCYCLE CHALLENGE
What: A Motorcycle fundraiser for the Center of Hope What does Center of Hope do: We share the hope we have in Christ with those in need in Sioux Falls. We do this by demonstrating Christs love as we meet physical, spiritual, and emotional needs. When: April 1 to Sept 30 Registration open now Where: Where ever you want to go Why: To support Center of Hope and you can participate anytime you get out and enjoy riding. How does it work: pay your registration at the website below Download MapMyRide and log your rides & send them a picture of your odometer on April 1 & Sept 30 Who: Whoever has a motorcycle!
More Info: www.centerofhopesf.org/events/beat-brett-challenge Celebrate Community Church Motorcycle Group
2017 Ride Schedule June 1 Thurs 6:30pm @ Sycamore Church to Union Jacks, Rock Rapids IA 60 Miles led by Randy June 15 Thurs 6:30pm @ J&L Harley to Pizza Ranch, Dell Rapids 36 Miles led by Milo June 24 Sat 10:30am @ Lewis on S Louise to Icky Nickle, Sioux City IA 200 Miles led by Jim July 6 Thurs 6:30pm Sycamore Church to Alcester Steak House, Alcestor 80 Miles led by Vern July 8 Sat 9am Gateway Lounge Breakfast, Valley Rd to Madison 120 Miles led by Jim July 8 Sat 4:30pm J&L Harley to Hot Harley Nights Parade, Meet at Icon after Parade July 15 Sat 9:30am @ Sycamore Church to Barefoot Bar, Okoboji IA 170 Miles led by Randy July 20 Thurs 6:30pm @ Sycamore Church to Waddy's, Hudson 80 Miles led by Jim Aug 3 Thurs 6:30pm @ Sycamore Church to Lang's Cafe, Pipestone MN 100 Miles led by Jim Aug 17 Thurs 6:30om @ Sycamore Church to Cedar Grill, Rock Valley IA 80 Miles led by Randy Aug 19 Sat 2:00pm @ J&L Harley to Cattleman's Mitchell 140 Miles led by Vern Sept 7 Thurs 6:30pm @ Sycamore Church to Green Lantern Hardwick MN 80 Miles led by Luis Sept 16 Sat @ J&L to Pier 81, Lake Poinsett 180 Miles led by Milo REMEBER: TANKS FULL - BLADDERS EMPTY Benefit Poker Run
Poker Run Benefit with proceeds to go to family effected by house fire. All Vehicles Welcome Register at Big J's Roadhouse Bar Saturday, August 19th 10:30 a.m. Silent Auction & 50/50 Raffle to follow the Poker Run McCrossan Boys Ranch XTreme Event Challenge
N. on Marion Road or take the I-90 Marion Road Exit Saturday, August 26th, 2017 5:30 pm - Gate Open at 4:00pm Pre-Show Kicks Off at 4:30 Tickets $12 Adults ($10 Advance), $5 Youth (12 yrs & younger) www.mccrossan.org
More Info: https://www.facebook.com/McCrossanRanch/ 9TH ANNUAL WOLF PACK POKER RUN
Saturday August 26th 2017 All Vehicles Welcome Starts & Finishes at The Red Eye Bar in Sioux Falls All proceeds go to the Special Olympics United- Wolf Pack Team email: unitedspo@sio.midco.net website: unitedwolfpack.org
More Info: https://www.facebook.com/events/1304580506278494/?active_tab=about 13th Annual Charity Poker Run
Proceeds to Benefit Disabled Veterans Hospital Transportation Fund National Guard Armory Brookings, SD Rain or Shine All Vehicles Welcome $500 Best Hand & other prizes
More Info: https://www.facebook.com/727DAVPokerRun/ 10th Annual Charity Poker Run & Bike Raffle
Saturday, September 9 at 9 AM - 5 PM at the Vermillion Eagles Club 114 Main St, Vermillion Created for Eagle Riders of the Dakotas Rain or shine this will be the biggest and best of all! Breakfast and registration begin at 9AM - Kickstands up at 11. We'll be back between 4 and 5pm to draw winners, then raffle the 2017 Harley Davidson Road King
More Info: https://www.facebook.com/events/1188203754631486/ AUTOBAHN SOCIETY #79--BMW CLUB
-EATING PLACES- Saturday Morning Breakfast- Dareo's 2920 S Minnesota 8:00 am "Meet to Eat" at 6:00 Aug 2: Red Rock Grille, E. of Rowena Aug 9: Stompin' Grounds, Hartford Aug 16: Azteca, 811 S. Minnesota Aug 23: Alpine Inn, 213 S. Sneve Aug 26: Last Sat. Breakfast: Grand Falls Casino Aug 31: Last Thursday: Phillips Diner Saturday Morning Breakfast Dareo's, S. Minnesota Ave.. -RIDES & RALLIES- Great River Road Rally- Soldiers Grove WI May 19-21 2017 Land of Oz Rally- Atchinson, KS June 2-4 2017 Hiawatha Rally- Money Creek, MN June 2-4 2017 Iowa Rally- Middle Amana IA June 8-11 2017 2017 BMWRA Rally- July 6-8, Petoskey, Michigan (less than an hour away from the Mackinac Bridge) 2017 MOA Int'l Rally Salt Lake City, UT July 13-15 2017 Top O' the Rockies Rally- Paonia CO July 20-23 2017 Husker Rally- Franklin NE August 11-13 2017 Beartooth Rendezvous- Red Lodge MT August 17-20 2017 Wisconsin Dells Rally- Wisconsin Dells, WI September 8-10 2017

SOUTH DAKOTA SAFETY COUNCIL: THE BASIC RIDER COURSE
The South Dakota Safety Council in association with the Motorcycle Safety Foundation Present the Basic Rider Course. The Motorcycle Rider Course: Riding and Street Skills consists of 15 hours of instruction (5 hours in the classroom and 10 hours on-cycle. Come to the classroom session prepared to ride.) Weeknights or weekend classes available. Who should take this course? *Anyone who is at least 14 years old. *People who have never ridden before. *People who are considering riding, but aren't sure. *People who have started riding. *Experienced riders. For DATES, TIMES, INSTRUCTORS & REGISTRATION...Please go to https://courses.southdakotasafetycouncil.org/Course/SearchCourses $75.00 per person For more details on requirements please go to South Dakota Safety Council website by clicking on the event heading. Contact the South Dakota Safety Council at sdsc@southdakotasafetycouncil.org or phone 605-361-7785 or 1-800-952-5539.
More Info: https://courses.southdakotasafetycouncil.org/Course/SearchCourses RIDER'S EDGE® NEW RIDER COURSE offered at J&L HARLEY DAVIDSON
The idea behind the New Rider Course is to enable non-riders to experience motorcycling while learning basic skills in a way that's fun and involving. Here is what makes the course unique: **Offered at J&L Harley-Davidson, where you get the added support of knowledgeable staff and a complete motorcycling facility. **New Rider Course uses the proven curriculum of the Motorcycle Safety Foundation's® Beginner Rider Course SM. **Instructors are dedicated enthusiasts who have received certification from MSF, as well as additional training from Harley-Davidson. **The course is about 25 hours of instruction, both in the classroom and on a controlled practice range. **Training vehicle­ Buell® Blast®, a mid-weight street bike that's easy-to-handle and a great starter bike that's a lot of fun on the road. **Each student must have sturdy, over the ankle footwear, protective eye-wear, full-fingered gloves, long-sleeved jacket/shirt, jeans and a DOT approved motorcycle helmet. Course Fee $212.00 including taxes. Payment is required at the time of registration. Call today for more information and the class schedule 605-334-2721 or 1-800-292-3531.
More Info: http://www.jl-harley.com/experience/learn MINNESOTA WEST MOTORCYCLE TRAINING
Basic Rider Course - $180.00 Experienced Rider Course- $55.00 Motorized Bicycle Course (Moped)-$35.00 Road Guard Certificate-$30.00 *Locations include Marshall, Pipestone, Luverne and Worthington. For more information or to register contact: MN West Community & Technical College - Valerie Jordan 507-537-7531 or www.mnwest.edu/training Pre-registration is required Class size is limited & must have materials mailed one week prior to class date. SOUTH DAKOTA ATV/UTV ASSOCIATION
A network for riders across South Dakota, the United States and Canada working to keep trails open, finding new friends and places to ride. Please visit www.southdakotaatv.com and become a member. Look for South Dakota ATV/UTV Events, Forums, News, Post Photos and chat with other members. We are dedicated to enjoying the outdoors, finding places to ride, trail maintenance, and protecting our rights to ride by fighting unfair regulation and land closures.
More Info: http://www.southdakotaatv.com