POWER BROKERS INC. CALENDAR OF EVENTS
Do you have a powersports event that you want to get the word out on? Get it to us and we'll get it in front of thousands of our customers with the Calendar of Events here at Power Brokers Inc. Just e-mail content and links to Brianna at brianna@powerbrokersinc.com Support Your Local U.S. Military Vets Motorcycle Club
The Eagle 514 Nation Sioux Crew has teamed up with Gunway in Harrisburg SD to offer you 12 months of gun giveaways. Please Contact Carl "Mac" McGaugh @ 605-212-7635 or Jeremy "Deadeye" Holien @ 605-381-8897 for more information.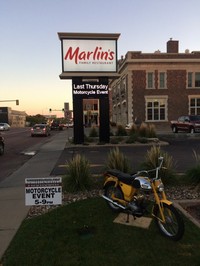 LAST THURSDAY
If you've been waiting for a motorcycle event unlike any other, stop down at Marlins (108 S Minnesota Ave) after 5pm on the last Thursday of the month. It will be a laid-back evening with a bunch of cool stuff-old and new. If it works like the organizers hope, the "Last Thursday" of every month (during the riding season) enthusiasts from all over will flock to Sioux Falls for a good time. Ride your unique ride by or just walk down. It should be a good time.
More Info: https://www.facebook.com/lastthursdaysiouxfalls/

SOUTH DAKOTA SAFETY COUNCIL: THE BASIC RIDER COURSE
The South Dakota Safety Council in association with the Motorcycle Safety Foundation Present the Basic Rider Course. The Motorcycle Rider Course: Riding and Street Skills consists of 15 hours of instruction (5 hours in the classroom and 10 hours on-cycle. Come to the classroom session prepared to ride.) Weeknights or weekend classes available. Who should take this course? *Anyone who is at least 14 years old. *People who have never ridden before. *People who are considering riding, but aren't sure. *People who have started riding. *Experienced riders. For DATES, TIMES, INSTRUCTORS & REGISTRATION...Please go to https://courses.southdakotasafetycouncil.org/Course/SearchCourses $75.00 per person For more details on requirements please go to South Dakota Safety Council website by clicking on the event heading. Contact the South Dakota Safety Council at sdsc@southdakotasafetycouncil.org or phone 605-361-7785 or 1-800-952-5539.
More Info: https://courses.southdakotasafetycouncil.org/Course/SearchCourses RIDER'S EDGE® NEW RIDER COURSE offered at J&L HARLEY DAVIDSON
The idea behind the New Rider Course is to enable non-riders to experience motorcycling while learning basic skills in a way that's fun and involving. Here is what makes the course unique: **Offered at J&L Harley-Davidson, where you get the added support of knowledgeable staff and a complete motorcycling facility. **New Rider Course uses the proven curriculum of the Motorcycle Safety Foundation's® Beginner Rider Course SM. **Instructors are dedicated enthusiasts who have received certification from MSF, as well as additional training from Harley-Davidson. **The course is about 25 hours of instruction, both in the classroom and on a controlled practice range. **Training vehicle­ Buell® Blast®, a mid-weight street bike that's easy-to-handle and a great starter bike that's a lot of fun on the road. **Each student must have sturdy, over the ankle footwear, protective eye-wear, full-fingered gloves, long-sleeved jacket/shirt, jeans and a DOT approved motorcycle helmet. Course Fee $212.00 including taxes. Payment is required at the time of registration. Call today for more information and the class schedule 605-334-2721 or 1-800-292-3531.
More Info: http://www.jl-harley.com/experience/learn MINNESOTA WEST MOTORCYCLE TRAINING
Basic Rider Course - $180.00 Experienced Rider Course- $55.00 Motorized Bicycle Course (Moped)-$35.00 Road Guard Certificate-$30.00 *Locations include Marshall, Pipestone, Luverne and Worthington. For more information or to register contact: MN West Community & Technical College - Valerie Jordan 507-537-7531 or www.mnwest.edu/training Pre-registration is required Class size is limited & must have materials mailed one week prior to class date. SOUTH DAKOTA ATV/UTV ASSOCIATION
A network for riders across South Dakota, the United States and Canada working to keep trails open, finding new friends and places to ride. Please visit www.southdakotaatv.com and become a member. Look for South Dakota ATV/UTV Events, Forums, News, Post Photos and chat with other members. We are dedicated to enjoying the outdoors, finding places to ride, trail maintenance, and protecting our rights to ride by fighting unfair regulation and land closures.
More Info: http://www.southdakotaatv.com